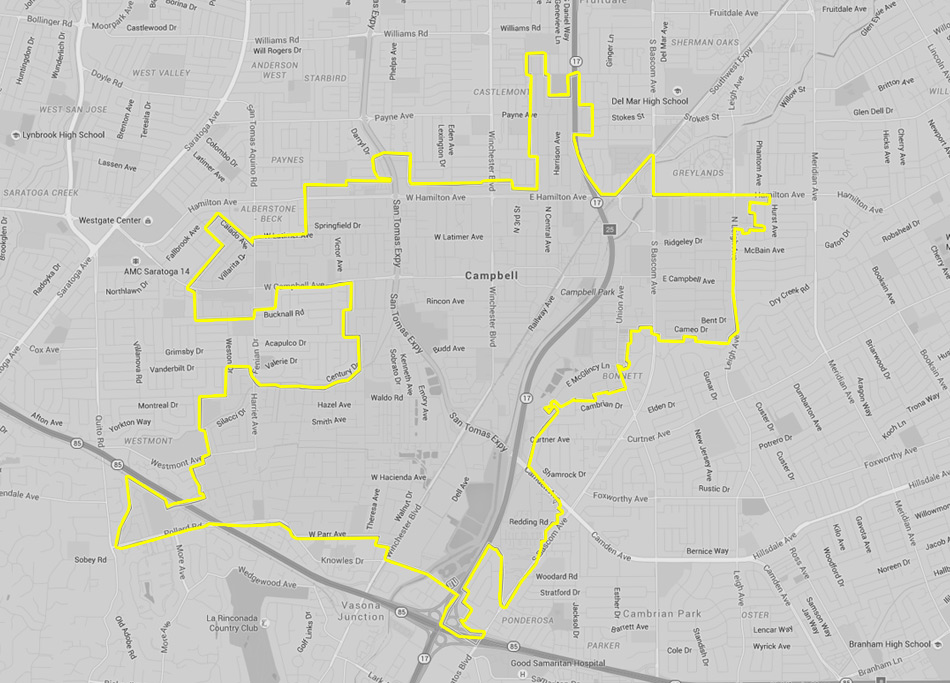 Taxi in Campbell: Yellow Checker Cab
There is no good reasons for you to just sit inside and do nothing while visiting or living in Campbell, California. Yellow Cab of Silicon Valley is ready and willing to get you where you want to go in a timely and professional manner. Exploring all that Campbell has to offer is your right. Don't let excitement and opportunity pass you by because you can't find a ride. After you have booked a taxi with us, be sure to check out the top 5 places to visit in the city.
Historic Downtown Campbell
Come here to peruse the area along Campbell Avenue between Winchester Boulevard and Bascom Avenue. There is plenty do here, including shopping, dining, and exploring. The landscaping is beautiful and the locals are very friendly. Our cabs can get you there in no time for a small fee.
The Old Ainsley House
Visit this fine local establishment when you have few extra moments. Our taxi Campbell can drive you to a unique English Tudor-style mansion that is nestled right in the downtown quad. Its former location, which was on the corner of Bascom and Hamilton Avenues, is actually now the home of the eBay headquarters.
The Campbell Community Center
This awesome city amenity can be found around Winchester and Campbell Avenues, and we know the way. It used to house the Campbell High School and is still home to a famous redwood tree that was planted there over 100 years ago by President Teddy Roosevelt.
Book Campbell Taxi Service Near You
You can easily book us in more than one way. Our customer care service is available for you 24/7, 365 days a year. Use our Yellow Checker Cab booking app or website, or simply call us at +1 408-777-7777. Wherever you need to go you can simply use your Voice Command and ask for: "Yellow Checker Cab near me" and we will take you where you need to go. Our team of professional cab drivers will drive you at a budget-friendly rate. Let us take care of you and we guarantee you a safe and prompt trip anywhere you desire to go.
The Heritage Theater
– located right inside the high school's former auditorium, this theater underwent renovations and updates back in 2004 and now hosts numerous events, classes, and shows.
Dubcich Farm
This amazing place is perfect for a relaxing excursion and is located right on West Campbell Avenue near Morgan Park, which is another wonderful place to visit. Dubcich Farm features an original farm house dating back from the 1920s, a barn which often hosts community events, and a number of blossoming fruit trees.
Junior Hardball League
Campbell is known for its successful youth baseball league, which reached 14 World Series between the years of 1960 and 1987. The original league dates back to 1909 and is the alma mater of numerous famous athletes.Catch a ride with us at Yellow Cab and never miss another exciting moment in Campbell. We know the way to everything and we can get you there no problem.
GIVE A GIFT OF A
FREE RIDE TO FAMILY & FRIENDS