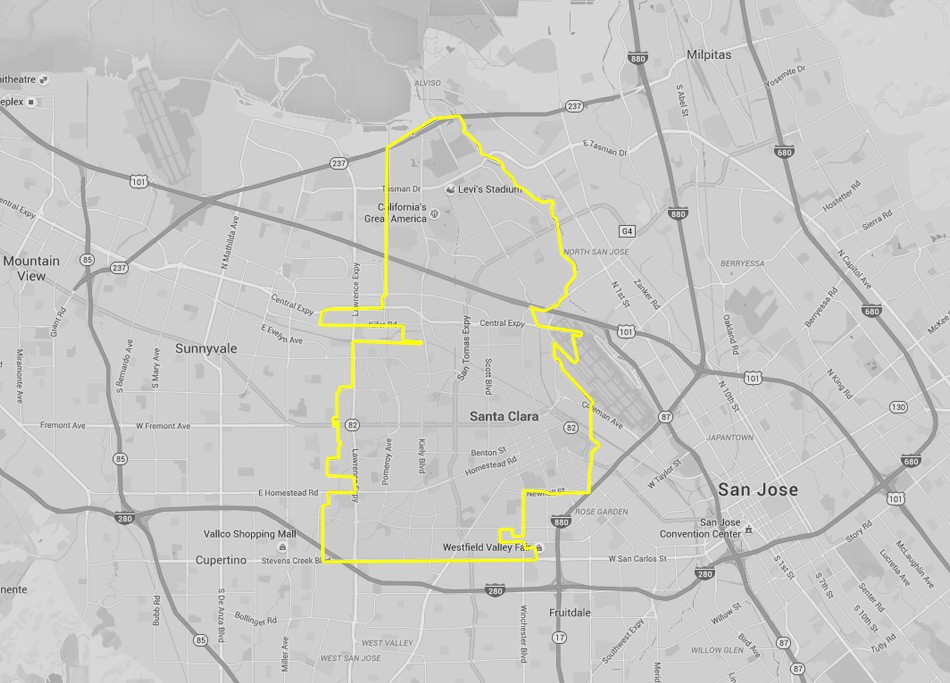 Taxi in Santa Clara: Yellow Checker Cab
Known for being the heart of Silicon Valley, Santa Clara has an incredible reputation that far exceeds its population of 110,000 people. Located just to the west of San Jose Santa Clara is a destination in its own right, bringing in tech innovators, freelancers, startups, tourists, and individuals on business from around the world. Regardless of what brings you to the cradle of tech innovation, you will want transportation service that you can rely on to get you to your destination on time and with a minimum amount of fuss. For decades Yellow Checker Cab has made it its business to provide only the best service around. Instead of going with potentially unlicensed drivers, go with a Taxi Santa Clara service that has built a reputation that you can trust.
Touring Santa Clara With Us
Santa Clara is a wonderful combination of old and new. Having been founded in 1777 as a mission, you can still tour the Mission Santa Clara De Asis known to be incredibly beautiful. If you are looking for a larger venue, then consider taking in a game at Levi's Stadium nearby. The Santa Clara Convention Center, with its unforgettable architecture as well as the Triton Museum of Art help to provide even more cultural and event locations to check out. Of course if you are interested in natural beauty then consider the central park as well as the Ulistac Natural Area.
The Marriott, Hilton, Hyatt, Best Western, Embassy Suites, and Plaza Suites are among the highest overall rated hotels for quality of stay, location, and price. Being located so near to San Jose, there are many other hotels as well thanks to the close proximity of so many metropolitan centers to Santa Clara.
Book a Cab in Santa Clara
Whether you are visiting museums, or in need of simple pick-up and drop-off, we are here to have your back. Choose to travel with our reliable and prompt taxicab company. Yellow Checker Cab offers you always-on-time rides with professional drivers in cozy vehicles. Our aim is to provide the best possible taxi service for every single ride. You can contact us through a website or our booking app. Simply call us at +1 408-777-7777 or use phone voice command to find Yellow Checker Cab near you. Relax and enjoy while we take care of your transportation.
Among the most recommended places to eat in Santa Clara is Ike's Place specializing in sandwiches. Mio Vicino, Mariani's, and El Camino Mongolian BBQ are also popular favorites in the city. Another popular location is the Santa Barbara Fish market, where the sheer variety of fish for sale will overwhelm you. In addition to foods from all over the US and the world being represented here, it is hard to go wrong with nearly every taste being satisfied.
Providing quick, professional, and reliable service from our fleet of licensed drivers, Yellow Checker Cab provides the best taxi service in Santa Clara. Whether you are going out for a wine tasting tour or going to one of the many spas located in and around the city, let Yellow Checker Cab help you find your way.
GIVE A GIFT OF A
FREE RIDE TO FAMILY & FRIENDS