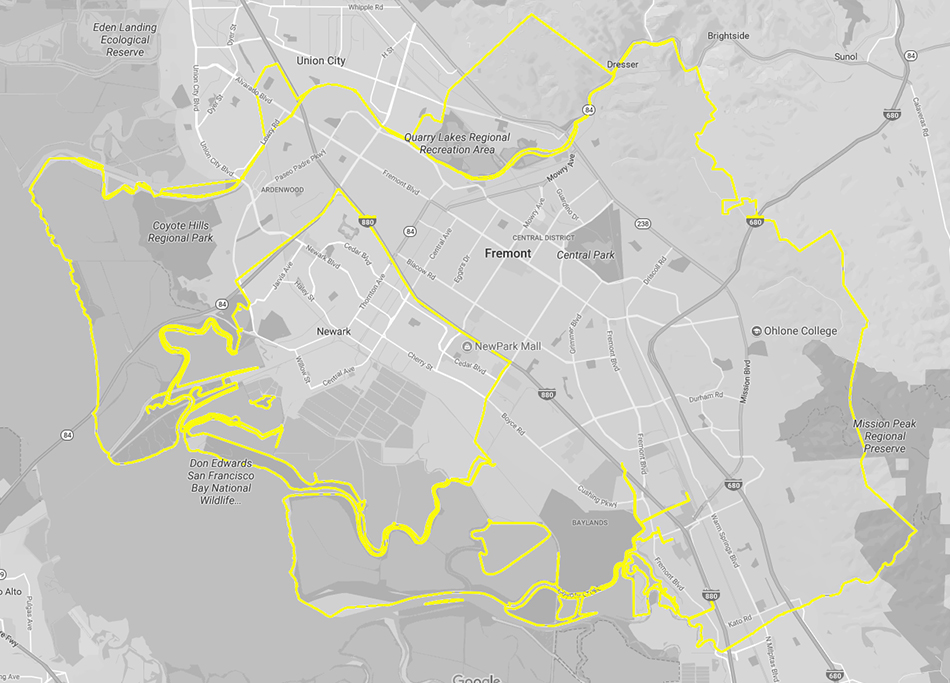 Taxi in Fremont: Yellow Checker Cab
Located in Alameda County, Fremont is best known as California's first movie-making community. In the Niles district, which influenced the creation of Hollywood, silent movie stars like Charlie Chaplin and Broncho Billy Anderson established their careers. The city was established in the 1840s and named after Civil War general and politician John C. Fremont. At first sight, the city doesn't look like a tourist destination, but a closer glance reveals that Fremont has a lot of historic gems to explore and visit.
You can also enjoy delicious dishes from different world regions and explore the beautiful nature that surrounds the city. Yellow Checker Cab is here to help you to get around the city. With five decades of experience in the cab industry, Yellow Checker Cab has created a reputation of high quality, dependable, and professional taxi service near Fremont and the surrounding areas, on which you can rely and be sure that you will get where you desire promptly and on time.
Visit Famous Places in Fremont With Yellow Checker Cab
While in Fremont, plan your sightseeing route and include some of the following places:
Niles Essanay Silent Film Museum – if you want to experience the story of how movies were made before the Hollywood era, visit this museum, which is located in Niles district. In Fremont, Charlie Chaplin filmed his famous movie The Tramp, and Broncho Billy made more than 140 westerns. This is a must-visit place for all film lovers.
Central Park and Lake Elizabeth – this is a favorite place of Fremont residents with a mesmerizing view of Lake Elizabeth and the Mission Peak. The park offers a variety of activities, from golf and tennis to basketball and kayaking.
Ardenwood Historic Farm – is a historic landmark from the 19th century ideal for families and those who want to take a break from fast modern-day life. Ardenwood consists of the Patterson House Museum, a large forest, and a working farm (with cows, goats, sheep, and pigs). You can participate in farm activities such as crop harvesting, ice cream making, and others.
Dining and Shopping in Fremont
Restaurants in Fremont worth mentioning are Aniki's Sushi, Sala Thai – the best Thai restaurant in town, Le Moose Crepe Café, Green Champa Garden, and Bob Sang Korean BBQ & Tofu. Since the largest immigrant community of Afghans in the USA is in Fremont, you should visit De Afghanan and Sland Pass Restaurant. If you haven't, try Aush and Kado Borani authentic Afghan dishes. When you want to enjoy traditional American meals, pay a visit to Country Way, and if you are into Middle East cuisine Falafel, Etc is the right place for you.
Fremont is a city with a diverse population of different nationalities, which enables numerous dining opportunities. Those who are looking for Asian cuisine should check Satomi Sushi, well known along the Bay area, for serving outstanding traditional Japanese sushi.
Yellow Checker Cab is a cab company in the area that will help you to get to recommended places comfortably and without stress.
How to Book a Cab in Fremont
Trustworthy taxicab service nearby with experienced drivers is what Yellow Checker Cab provides to new and returning customers. If you need a ride in Fremont, YCC will take you to any destination promptly and safely. You can book your ride in several ways, with booking app, by calling the phone number or through Yellow Checker Cab's website. You can also activate Voice Command and request for: "taxicab near me", "cab in Fremont", "taxi close to my location" or anything similar. Schedule a cab and enjoy a comfortable and affordable ride.
[pbbuttons]