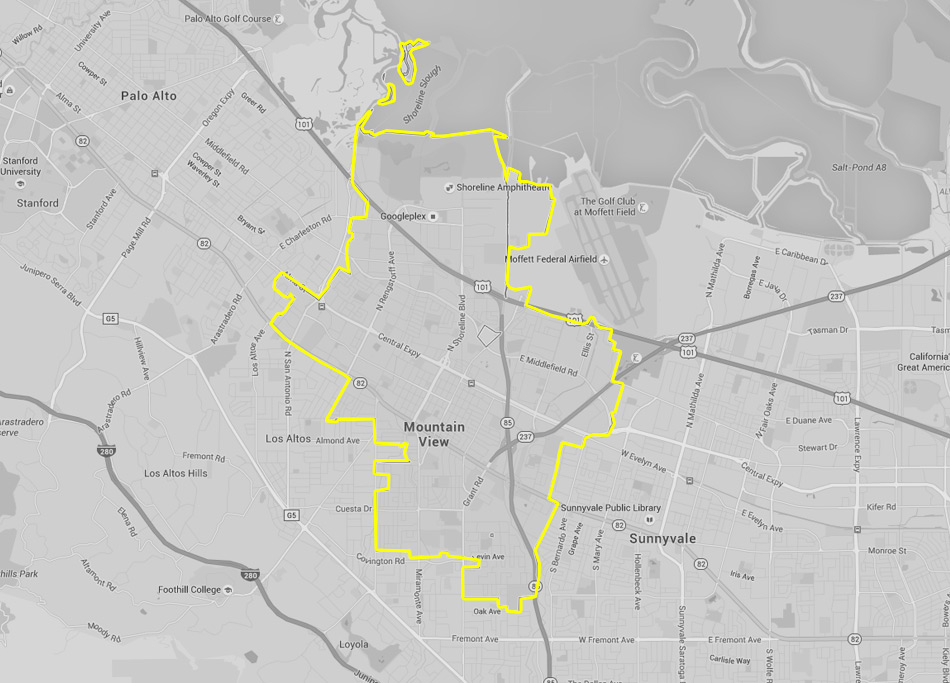 Taxi in Mountain View: Yellow Checker Cab
Going to Mountain View? Book a taxi in the vicinity to get there! Situated between Palo Alto and the cities of Sunnydale, San Jose and Santa Clara in the southern part of the San Francisco Bay, Mountain View has more than a few destinations and attractions worth checking out!
What Taxicab Company to Book in Mountain View?
If you are interested in exploring this city in style as well as getting where you need to go at all hours of the day, then Yellow Checker Cab is the taxi company in the vicinity to have on speed dial.
With a firm reputation for providing superior service, professionalism, licensed and knowledgeable drivers, and experience, Yellow Checker Cab is the most reliable service around. Plus, with its great rates and multiple services on offer, there'll be no stopping you to do everything, and see everything you want! What is the population of Mountain View, anyway? Based on the latest numbers, it is estimated at just over 77,000. This is a small city with a whole lot of charm, and there's no doubt that you'll absolutely love it!
Visiting the Home of the Largest Tech Companies in the World
What companies are in Mountain View, CA? Mountain View is home to some of the largest tech companies in the world, including Google, Mozilla, Intuit, and the namesake of Silicon Valley itself, Shockley Semiconductor Laboratory. If you are worried about how to get from the airport to Mountain View, or any of the companies Yellow Checker Cab is there for you.
What Can I See in Mountain View If I'm Not There for Business?
If you are not coming to town on business, you will no doubt want to know about the other amazing things about Mountain View. Here are just a few of the spectacular sights you can see:
– The Nasa Ames Visitor Center
– Pear Avenue Theatre
– TheatreWorks Silicon Valley
– Shoreline Amphitheatre
– Moffett Field Historical Society Museum
– Computer History Museum
Whichever of these places that you visit, you'll be stepping into some of the best known cultural and museum stops. You can always organize a taxi ride near you to come to pick you up and drop you off, as convenient. Countless trails, Google Android Lawn Statue Park, and Klein Park offer opportunities to get outdoors and enjoy the beautiful weather.
Is Mountainview CA Expensive?
Most prices – whether entertainment or living costs – are lower than the US average. Like Sunnyvale, Mountain View benefits from its proximity to other urban centers, allowing for countless hotels and motels to hold visitors and locals, respectively. Depending on your budget and how close you want to be to the center of Mountain View, the options are plentiful and pretty light on the budget. Hotel Vue, the Hilton, and Hotel Avante top the list as the best experience in regards to hotels in the area.
Along with the Mountain View farmers market, you can also find an incredible range of restaurants and eateries. Himalayan Kitchen and Oren's Hummus Shop are popular destinations. Essentially, whichever place you chose to visit in Mountain View – you'll love it!
Book Yellow Checker Cab to and from Mountain View
Whether you are a visitor or one of the locals, you can easily book the Yellow Checker cab taxi service. If you need a swift ride to and from a restaurant or hotel, the best taxi company in Mountain View offers the most affordable and reliable rides. Drive in coziness and save your most valuable time. You can simply book us in a minute. Use the booking app or reserve Yellow Checker Cab near you through the website. Call us at +1 408-777-7777, any day in a year, 24/7.
Book your ride with the long-trusted company in Mountain View today.
[pbbuttons]