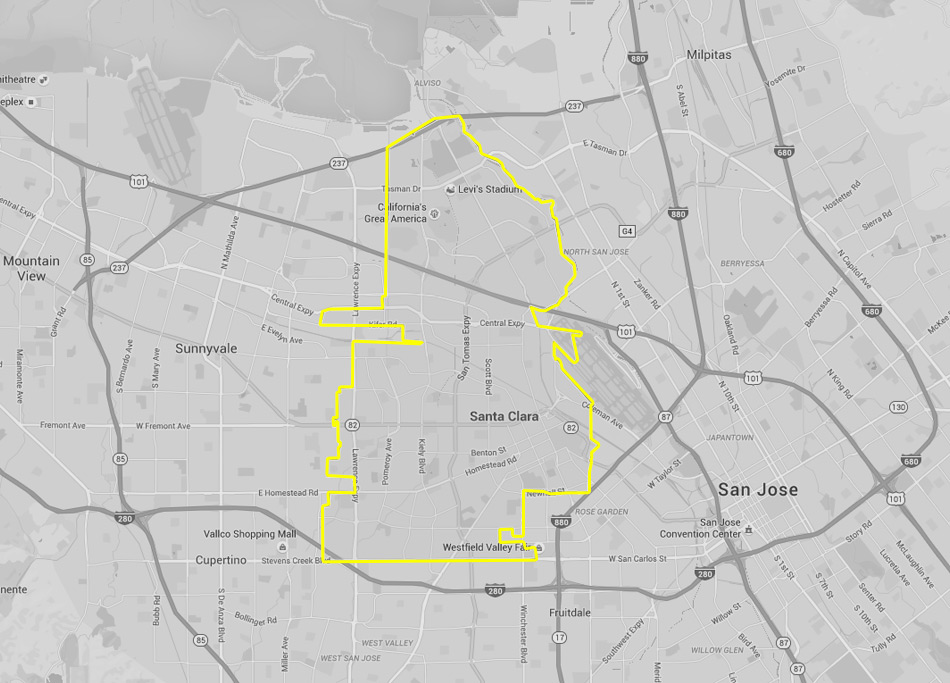 Taxi in Santa Clara: Yellow Checker Cab
Known for being the heart of Silicon Valley, Santa Clara has a prominence that far exceeds its size of 110,000 people. Located just to the west of San Jose, Santa Clara is a destination in its own right, bringing in tech innovators, freelancers, startups and tourists from around the world. Regardless of what brings you to the cradle of tech innovation, you will want a transportation service that you can rely on to get to your destination in time and with a minimum amount of fuss. Make sure you avoid potentially unlicensed drivers and choose Yellow Checker Cab as your taxi company in Santa Clara. YCC has built a reputation that you can trust.
Touring Santa Clara With Yellow Checker Cab
Santa Clara is a lovely blend of old and new. The city was founded as a mission back in 1777 and today you can still visit the Mission Santa Clara De Asis, noted to be very beautiful. Other places of interest include the Triton Museum of Art, Central Park, Ulistac Natural Area and The Santa Clara Convention Center, known for its gorgeous architecture. Sports fans might want to go to Levi's Stadium for a football game.
The restaurant scene of the city is very diverse and some of the most recommended dining spots are
The restaurant scene of the city is very diverse and some of the most recommended dining spots are
– Fogo de Chao Brazilian Steakhouse
– Scott's Seafood – San Jose
– La Papillon
When it comes to hotels, among the best ones in the area are
– The Marriott
– Hilton
– Hyatt
– Best Western
– Embassy Suites
– Plaza Suites
As Santa Clara is so close to San Jose, there are many more hotels to stay at as well. How to get from Santa Clara to San Jose and vice versa? With Yellow Checker Cab by your side. The smoothest cab rides in the area are guaranteed once you book yours with YCC.
Book a Cab in Santa Clara
Whether you want to go sightseeing or just need a pick-up and drop-off, choose a reliable and prompt service provided by Yellow Checker Cab. Get in touch with us via YCC's website, use the mobile booking app, call +1 408-777-7777 or just use your phone voice command to find "Yellow Checker Cab near me". Then relax and enjoy while Yellow Checker Cab takes care of your transportation. YCC's licensed drivers will always provide a quick and dependable service and you will enjoy a very convenient journey. Whether you are going out for a wine tasting tour or to a spa located in or around the city, let Yellow Checker Cab provide the best cab services in Santa Clara, and help you get to your destination.
Airport Transfer to or from Santa Clara
When in Santa Clara and in need of an airport transfer to or from any airport in the Bay Area, call Yellow Checker Cab for the best quality and most reliable taxi service. Whether it is San Francisco International Airport (SFO), San Jose (SJC) or Oakland International Airport (OAK), YCC's experienced chauffeurs will take you to your destination safely and on time. Being very familiar with the area and the traffic flow, they will choose the best routes for you and since Yellow Checker Cab has the largest affiliated fleet in Silicon Valley, there will always be a cab that can pick you up. Forget about traffic or parking issues, sit back in one of the clean, air-conditioned and impeccably maintained vehicles, and enjoy a comfortable and yet affordable ride with Yellow Checker Cab.
[pbbuttons]