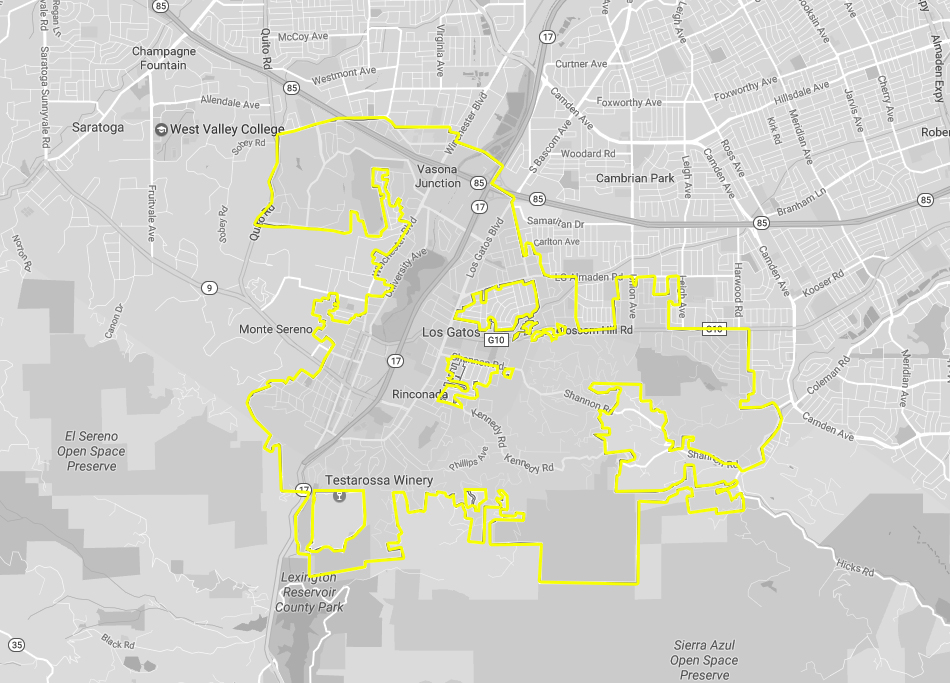 Check Out Some of Famous Places in Los Gatos With Us
Residents of Los Gatos proudly point out that they live in a self-sufficient community with more than 3000 businesses – in a town of about 30 000 people. There are various restaurants, hotels and shops in the city, particularly in the pedestrian friendly Downtown Los Gatos, which is listed on the National Register of Historic Places and considered to be a prime example of what a downtown should be like. Los Gatos has many parks and green areas that add up to its charm and make it even more attractive toits residents and visitors alike. The New Museum, NUMU, has art and history exhibitions and programs. Very different pieces are on display, from Moon shots to history artifacts, torare art works. To get there or to any other place in town, call Yellow Checker Cab.
Los Gatos is situated in the San Francisco Bay Area and is a part of Silicon Valley. A few high-technology companies are present in town, with Netflix being the most prominent among them and having its headquarters located in Los Gatos since 2017. Other companies that also have their HQ in the city include Cryptic Studios, Digital Media Academy and ImageShack.
Book Taxicab Yellow checker service
Whenever you need to travel in and around Los Gatos, Yellow Checker Cab is the right choice to make – we will take you to any destination safely and in a timely manner. To book your ride with us, use our booking app; schedule your preferred vehicle on our website; or activate Voice Command on your phone and ask for "Yellow Checker Cab near me" or "taxi near me". And then just enjoy a comfortable ride and a reliable service provided by Yellow Checker Cab.
Taxi in Los Gatos: Yellow Checker Cab
Being a lively town with thriving local businesses and some big-name companies' headquarters, Los Gatos offers a lot more reasons for a visit than an average city of its size. But with all the different options out there – business related destinations, restaurants, parks and more – you might need a hand while navigating the city. This is when you should call Yellow Checker Cab and our professional drivers will take care of your journey and make sure that everything goes as planned.
Visitors looking for a stylish place to stay could opt for Hotel los Gatos, Best Western The Inn of Los Gatosor Garden Inn Hotel; or they could look beyond, as there are quite a few alternatives.You will have no problem finding more affordable options either.
When it comes to dining experience, choices are plenty. Manresa is a three Michelin star restaurant, so you can count on the first class service and incredible food – all the right flavors of a special night out. Also consider visiting Nick's Next Door, Oak & Rye, Dio Deka and Verge Restaurant and Lounge and don't worry – whether it's Mexican, Chinese, Indian or you-name-it cuisineon your mind, you won't gethungry or disappointed in Los Gatos. The same goes for various healty preferences you might have.
When you feel like savoring seafood, Pacific Catch or By Water Restaurant are the places to go, while Ariake Sushi is another one you'd be happy you did not miss. Steak lovers should make their way to Forbes Mill Steakhouse or Henry's Hi-Life, while those looking for some good wine need tovisit Enoteca La Storia or Wine Cellar Restaurant. Finally, to get a taste of the vibrantlocal bar scene, check out Cin-Cin and Hult's Restaurant.
For a safe and comfortable ride call Yellow Checker Cab.
GIVE A GIFT OF A
FREE RIDE TO FAMILY & FRIENDS