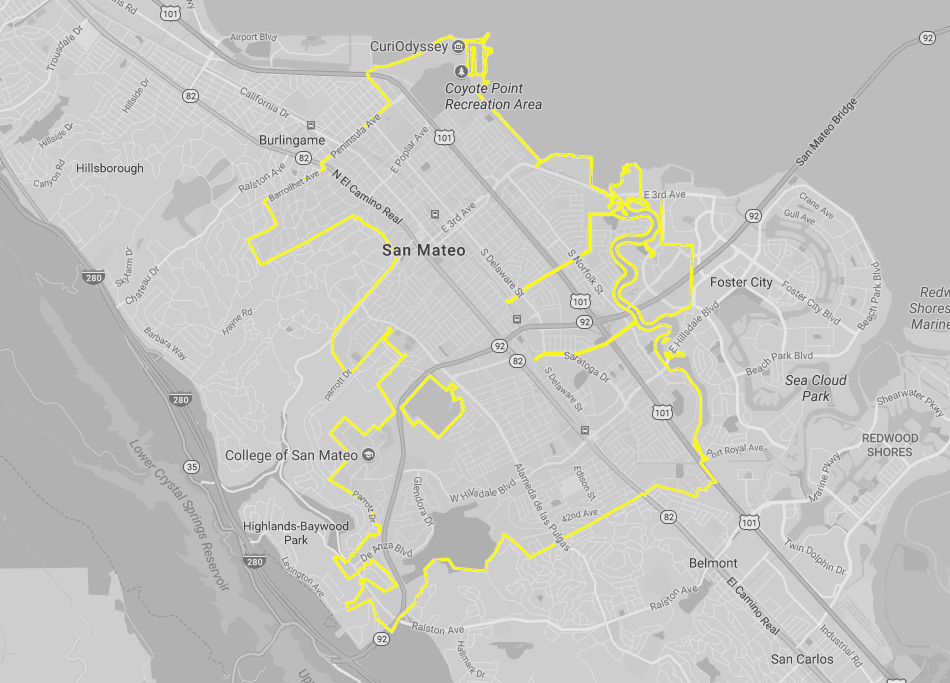 Taxi in San Mateo: Yellow Checker Cab
Positioned in the hearth of the tech-driven Silicon Valley of San Francisco Bay Area, San Mateo is one of the largest suburbs of San Francisco Peninsula, with the population of just over 100k. While most people are visiting San Mateo for job hunting or interviews, many people are turning to it for some exciting outdoor activities, which go hand in hand with the enjoyable Mediterranean climate of this area. That being said, regardless of your reasons for visiting San Mateo, if you are looking for a professional, quick and top-notch quality cab fare anywhere in, to and from San Mateo, look no further than Yellow Checker Cab. At Yellow Checker Cab, we understand the importance of your time, and have a team of licensed drivers, as well as support staff, in order to ensure that you have a pleasant and professional experience, getting where you need to go on time and in style, too!
Home to many famous companies, such as GoPro, NetSuite, Sony Interactive Entertainment and many others, San Mateo is a tech-oriented haven.
Visiting the heart of the Silicone Valley
The downtown of San Mateo is one of the more prominent, busy areas of the Silicon Valley, located just east of the El Camino Real, where the majority of the population is situated, as well. The staggering number of over 800 shops and restaurants, located in the downtown core is there to make sure that there is a place for virtually anybody's taste. Many of those shops and restaurants are set up in buildings that do an impeccable job of showcasing the architecture of late 19th and early 20th century, which is a simply breathtaking sight to revel in. Japanese culture has been qu9ite influential in this area and many Japanese restaurants and shops can be seen throughout the downtown area. This can also be seen in the San Mateo's Central Park, which has picnic areas, tennis courts, a baseball field a recreational center and even a Japanese Tea Garden. In addition to the Central Park, San Mateo downtown area has a modern, 12-screen movie theater that is the focal point of entertainment.
Other notable areas in San Mateo include Hillsdale, which features the largest mall in San Mateo, with over 100 stores in the mall itself. The area also sports a bowling alley and a prestigious movie theater, if you are looking for some entertainment.
Bay Meadows used to be a famous horse racing track, but it is being redeveloped into a new residential, work and retail area, which features a town square.
Book Yellow Checker Cab to and from San Mateo
Whether you are visiting or a local of San Mateo, if you find yourself in need of a reliable, fast taxi service you can easily book a fare with Yellow Checker Cab. Available 24/7 throughout the year, your Yellow Checker Cab is only a call at +1 408-777-7777 away. In addition to calling you can book a ride through our website or by using our booking app.
GIVE A GIFT OF A
FREE RIDE TO FAMILY & FRIENDS