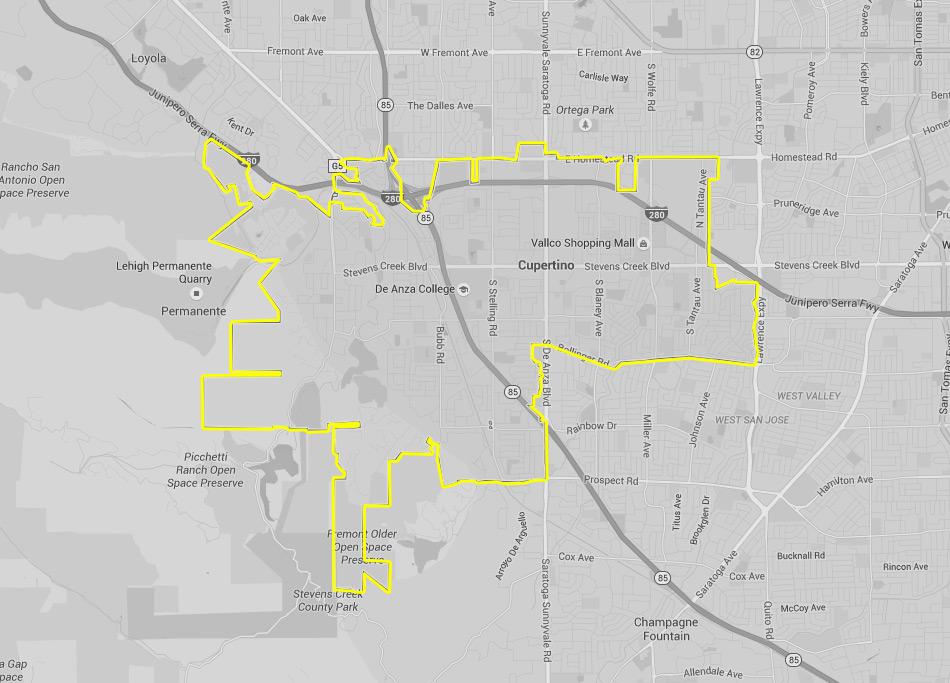 If you happen to find yourself in Cupertino, CA plenty of exciting activities await! Still, you have to figure out how to get from where you are to the location of any cool event. So… When you don't have an automobile of your own at hand but you do have an opportunity to go out, a dependable "Cupertino cab ride near my location" with us will be exactly what you need!
Yellow Checker Cab makes sure you don't miss out on any opportunity life throws your way. Book a taxi service close to Cupertino and travel with the best people in the game, at the best rates you'll find in Silicon Valley.
Where is Cupertino?
Santa Clara County in California it the general location of this town. Cupertino is the home to about 60,000 residents and of high-tech giant Apple Inc. This affluent area is only 12 miles away from Norman Y. Mineta San Jose International Airport (SJC). If you get yourself a competent Cupertino yellow taxi nearby, that transfer will last less than 15 minutes!
What is more, the nation's 11th wealthiest city is only 40 miles away from Oakland International Airport (OAK). And if your next thought sounds something like "OK but then, how far is Cupertino from San Francisco International Airport (SFO)?", let us clear that up right away! The distance is somewhere around 30 miles. And again, you know which taxicab company close to Cupertino area, can take you there, right
Explore Cupertino with Yellow Checker Cab!
Let's start with The Flint Center – this establishment hosts a number of exhilarating programs each year for patrons of all ages. Events such as symphonies, live theater shows, concerts, and stand-up acts from famed comedians are quite common here. Admission is incredibly affordable and the accommodations are top notch, so what are you waiting for? Whether you're in San Martin, Fremont, Menlo Park, your favorite Cupertino taxi service close by will take care or the ride. Just give us a shout!
If you're hungry for some shopping, remember Vallco Shopping Mall (formerly the Cupertino Square). Explore all that capitalism has to offer in this department store heaven. You even have an ice center and an AMC movie complex located on site! People of nearby towns of San Jose, Campbell, Monte Sereno, Saratoga, Los Gatos often stop by to see what's up. They don't worry about traffic jams and parking, they just relax and enjoy a ride to any of their desired locations. Let Yellow Checker professional taxi drivers assist you too!
Book Your Cab Service near Cupertino
Don't miss a chance to visit Cupertino! Find Yellow Checker Cab in the vicinity or call us at +1 408-777-7777. Feel free to contact us anytime; it is easy to book your taxicab online. Give it a shot and you won't be late or stuck wondering how do I get from Los Altos to Mountain View or Sunnyvale ever again.
Simply choose where you want to go, and Yellow Checker Cab will take you there in no time!
Then, there's The Fujitsu Planetarium, offering you a peek into the marvels of space by visiting the largest indoor planetarium to the west of the Rockies. It has been newly renovated and is now considered to be one of the top state-of-the-art facilities in the world. And last but not least –Cupertino Historical Society – museum at the community center. Learn all about the history of Cupertino and then walk over to the Memorial Park where the amphitheater is located. There are can watch summer movies or hear Shakespeare in the Park.
And when you get tired from all that exploring, you know that you have a safe way back home, right? With the nearest taxi cab service in Cupertino, you'll get all the way to Morgan Hill, San Martin, or Gilroy in no time!
[pbbuttons]